An Inspirational Weekend of Events
in Honor of
Rabbi Hershel Fogelman, of Blessed Memory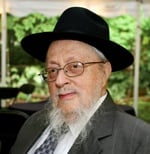 Rabbi Hershel Fogelman was sent on shlichus to Worcester, Massachusetts in the 1940's. The Yeshiva Achei Tmimim was housed in a property on Millbury Street, which Rabbi Fogelman had arranged to rent for one dollar from Mayor O'Brien. In the late 50's, when the young Jewish population started migrating to the West Side of Worcester, Rabbi Fogelman bought land and built the building historically known as "The Yeshiva", the first building built from scratch for Lubavitch, and over the years, hundreds of students have passed through its doors.
Rabbi Fogelman passed away Rosh Chodesh Tamuz 5773. On Chof Ches Sivan, before an overflowing crowd, this same building was dedicated to Rabbi Fogelman's honor and memory, and renamed the Rabbi Hershel Fogelman Chabad Center.
The program began with master of ceremonies Rabbi Mendel Fogelman who delivered a quick history lesson to the secular crowd on the meaning of Chof Ches Sivan. Rabbi M. Fogelman told the story of the Rebbe telling four bochrim in the zal one night, az der shver hot ungehoiben mit mesibas Shabbos der sof vet zein azmi vet aynnemin di gantza velt. "The shver began with Mesibas Shabbos, the end will be we will capture the whole world." Rabbi Fogelman asked everyone to close their eyes and imagine 1941, four boys, the Rebbe, a prophecy… Then Rabbi told everyone to open their eyes and see that today there are 4000 shluchim, hundreds of Chabad houses, shuls, camps, etc.
Rabbi Fogelman then read a letter from the Rebbe to his father of blessed memory. The letter was an answer to a report sent with a picture of the building under construction to the Rebbe. Rabbi Mendel explained how precious each word of a letter from the Rebbe is, and the fact that the Rebbe wrote that the picture made a strong impression on him, means so much.
The Mayor of Worcester was introduced to read a proclamation from the City in honor of Rabbi Hershel Fogelman. The Mayor said he felt very close to Rabbi Fogelman, and considered it an honor to be present at the Chanakah lighting each year.
The building was dedicated by Albert Tapper, a close friend and supporter of Rabbi Hershel Fogelman's. Al is an accomplished writer, composer, lyricist, investment banker, and recipient this year of the prestigious Peabody Award. A Worcester boy at heart, the son of Lou and Ida Tapper, and the grandson of Soroh Lotte Ziff, one of the founders of the Yeshiva, Al unveiled the new sign on the building. He told the story of a miracle that had occurred within the past week. He lives on a narrow Street in Manhattan. He had stepped out to cross the street and before he could blink, Al explained, "A car went right through me. Call it mystical. Call it mirrored walls. The car went through me. I believe I was not hurt because just ten minutes before this happened I had emailed Rabbi Mendel to say I would be attending the event. I say openly, I believe Rabbi Hershel Fogelman saved my life."
Rabbi Chaim Fishman, beloved teacher of the Yeshiva for 53 years and member of the hanhola, led the audience in a prayer. Rabbi Shmuel Fogelman then conveyed a strong message which was eloquently delivered. "Rabbi Fogelman's focus was on the individual. He didn't build a shul, a community, a city. He built individuals that he viewed as an olom molah, and those individuals created a shul, a community, a city. He energized his students, stirring them to recognize the effect that they can have on the atmosphere around them, making them all shluchim.

Worcester favorite, Rabbi Yossi Gordon, Executive Vice President of Chabad on Campus International, had just completed a very busy 3-day kinnus for Chabad on Campus, and drove directly to the ceremony. He shared the following a heart-warming message. "This building is a beacon of kedusha. A beacon of holiness and sanctity that illuminates Worcester and the entire Central Massachusetts area. Rabbi Fogelman's holy soul is here now. He is shepping nachas from us. Without question, as the Rebbe's Shliach for nearly 70 years, the Rebbe is here too. Without question, the holy presence of G‑d Almighty, the Shechina is here. Tonight Mr. Tapper leads the way in bringing our renewed commitment to strong and vibrant Jewish life in Worcester. The Jewish Renaissance in Worcester is underway, and we are here to support and nurture it to greater and greater success."
A treat for all was retired Judge Ernest Hayeck. Rabbi Mendel Fogelman told a two-fold story, "When I was 19 years old, I was driving down Belmont Hill when I heard for the very first time (not the last) a siren. The policeman looked at my license and said, 'Oh….Fogelman. It's not your fault. Your father taught you to drive!'
Years later," Mendel told the audience, "my father appeared before a very tough judge regarding a pile of tickets. The judge banged down his gavel, fined Rabbi Fogelman $250, declaring him guilty. Then the judge stood up in front of the courtroom, pulled $250 from his pocket, and told his clerk to pay the fine. When Judge Hayeck was introduced he quipped, "It wasn't $250; it was $400!"
State Senator Hariette Chandler shared an amazing story. She was asked by a group of college professors to go on a mission to Israel in 1968. She was frightened and someone advised her to talk to Rabbi Fogelman. Rabbi Fogelman asked the Rebbe for a brocha, but no answer was received. She decided to go on the trip. On top of Masada, on the first or second day of her trip, she saw a man with his family running toward her. "Rabbi Fogelman said to tell you, the Rebbe said your trip is good for the Jews."
Eminent speaker, Rebbetzin Fogelman, recently appointed Head Shlucha by the Board of Directors of Merkos L'Inyonei Chinuch to continue to grow the rich legacy that she and her husband have created, delivered closing remarks. She told a story about the importance of outreach, and that with our actions, we can bring people who are distant, closer to Yiddishkeit. Her words were inspirational and uplifting.
The dedication ceremony was just the beginning of a weekend of tributes to Rabbi Fogelman.

A family Friday night Seudas Shabbos was attended by close to 60 family members. On Shabbos morning over 150 community members gathered in shul. Rabbi Levi Fogelman, head shliach to Metro-West, delivered an in-depth talk on the meaning of a yartzeit, making connections to Gimmel Tamuz.
Following mussaf there was a farbrengen luncheon. The crowd was addressed by Mrs. Bassie Levin, eldest daughter of Rabbi Fogelman, who kept the crowd interested with wonderful anecdotes. She had very clear memories of the family's participation in shlichus in the 1950's. One story was about a birthday party that Bassie had attended when she was five or six years old. The girls had gathered in a circle for a game and one girl told Bassie, "I want to hold your hand. Your father is Rabbi Fogelman and he owns the Yeshiva"! Bassie came home and excitedly relayed to her father that a girl had told her that Rabbi owned the Yeshiva. Rabbi Fogelman, in a serious, but gentle tone, answered, "The Rebbe owns the Yeshiva."
Rabbi Chaim Fishman then delivered a wonderful talk on Rabbi Fogelman's origins from the east side of New York.
Motzei Shabbos was the actual yartzeit, On Sunday morning, after the minyanim, once again the community gathered together. Rabbi Mutty Fogelman, the youngest son, completed learning the mishnayos and made a siyum. Rabbis Fishman, Blotner, and Phillips all made personal remarks, and Rebbetzin Fogelman completed the weekend with closing remarks which held the crowd spell bound.